Building AAC Facilitation Skills with Tabi Jones-Wohleber: MASTER PAL Training, Module 1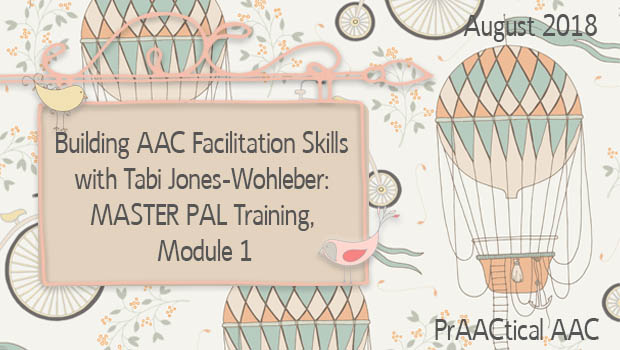 Are you…
Hoping to train team members to be better communication partners for their AAC students/clients but overwhelmed by the thought of all the preparation?

Relatively new to AAC and not sure what content to share in your training?

Looking for additional resources to utilize in your existing training sessions?
Good news, AAC friends! This post is for you.
We're so happy to have SLP Tabi Jones-Wohleber returning to the blog to share more of her wonderful AAC resources. Tabi works with young children at the West Virginia Birth to Three program and serves on the AT Team for Frederick County Public Schools in Maryland. Today, she launches a new series on partner training that focuses on the use of aided language input and other facilitative strategies.
There are 11 modules in all (1 overview for administrative discussions and 10 for communication partners) and each one includes slides, handouts, discussion prompts, links to videos, and activity suggestions. Fasten your seatbelts – there's a lot to cover.
Enjoy!
:::::::::::::::::::::::::::::::::::::::::::::::::::::::::::
Despite tons of support on core vocabulary, which everyone "gets" on some level, there is a real need for ongoing support of communication partners to look at the actual nature of the interactions (which tend to look more like compliance than communication). This is the first of 11 posts sharing resources for 'Model as a MASTER PAL' partner training.
Let's get started!
Congratulations on Presenting Model as a MASTER PAL!
'Model as a MASTER PAL' was developed to help shape behaviors and belief systems of communication partners supporting individuals who use AAC.  It was developed from the premise that 1) AAC implementation is not intuitive, and 2) communication is not compliance. This training series assumes topics related to core vocabulary instruction and explicit creation of communication opportunities have already been covered, and communication partners require additional information to improve the effectiveness of implementation.  The structure of this training series lends itself to delivery over time for ongoing discussion and support related to AAC implementation. It emphasizes that modeling language with AAC is the communication partners responsibility (full stop)!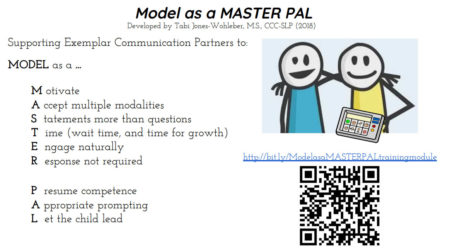 The training module topics include:
Overview of 'Model as a MASTER PAL' 

(

to share with directors and other stakeholders to provide information about the importance of providing effective and ongoing support for communication partners of individuals who use AAC.)

Modeling, an Overview

Motivate

Accept Multiple Modalities

Statements more than Questions

Time (wait time and time for language to develop)

Engage Naturally

Response NOT Required

Presume Competence

Appropriate Prompting

Let the Child Lead
This training module contains facilitator notes, Google slides, and resources to guide you through the process. Each training module has a parallel structure with Facilitator Guidelines that you should print.  It includes the following:
Handout-

link to

PDF of Google Presentation for participants

Warm up discussion

– Thinking Prompts and Making Connections/Talking Points

The Discourse

– Topics, Slides, & Talking Points/Examples

Supplemental Handouts

Video Links

Interactive Activities/Discussion

Extension Resources
Training Modules
Begin with a definition of the 'Model as a MASTER PAL' acronym and an overview of AAC as participants may fluctuate from session to session and this helps to ensure that everyone is on the same page.

The Warm Up Discussion follows.  Slide fonts are green and italicized to cue you to engage participants.  

As you go through the body of the presentation, the Talking Points for a slide or group of slides is outlined in your Facilitator Guidelines. This gives you an understanding of the thought behind the slides to help you lead the discussion.

A Re-cap reviews the key-points/takeaways and provides a consistent finishing point.

Each module ends with a time for Comments and Questions.
Additional resources in each module include:
Google Slide Handouts-link to

PDF of Google Presentation for participants

Supplemental Handouts- PDFs of additional information related to module topics (numbered corresponding to module topic number)
**The sharing settings for all documents in this training module are set to "public" with rights to "view"
Tips:
To modify or edit Google Slide(s), copy/paste the entire Google Slide and create a new document in your Google Drive.

To hide slides when in presentation mode, right-click on a slide and select "skip slide"
You can download a document with these Trainer Guidelines here.
:::::::::::::::::::::::::::::::::::::::::::::::::::::::::::::::::::::::::::::::::
Ready to get started? Here's what you'll need.
We're just getting warmed up! Come back next week for the second module in this series.
Filed under: Featured Posts, PrAACtical Thinking
Tagged With: AAC partner training, inservice, Tabi Jones-Wohleber, Training

This post was written by Carole Zangari