A(nother) Year of Core Vocabulary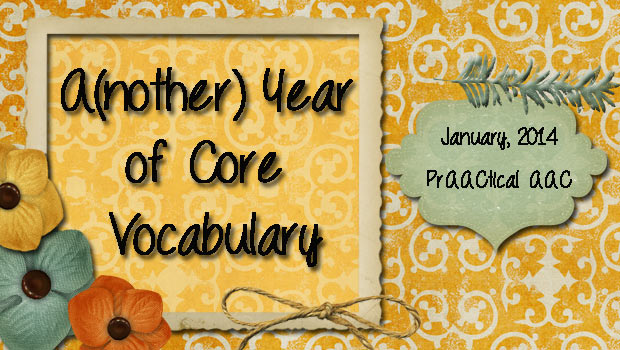 It hardly seems possible that a year has gone by since we posted a Year of Core Words 2013. We've been so gratified by the feedback from professionals and parents who've put it to good use and followed month-by-month to focus on a dozen core words and get suggestions for additional practice. We were thrilled when others added symbols, created teaching materials, and adapted it for their own use.
Today we're back with the 2nd Year of Core Words, this time with 16 words/month. If you follow along, you'll have covered 192 new core words by the end.
Once again, we created 12 grids of core vocabulary words – one for each month of the year. Each grid has 16 cells labeled with core words. Plug in the AAC symbols that your client uses (e.g., PCS, SmartySymbols, Unity, Pixons, etc.), print, laminate, and keep them handy. Feel free to adapt the grids with other core words, if you wish, or do anything else that makes them more useful in your work. Then, post the grid of the month where you will see it.
Here's the the plan for using these grids to build prAACtical skills…
Use aided language input and model these words for the learners using their AAC systems.

Elicit these 16 words in everyday routines.

Develop practice activities, like hiding the symbols in a sensory tub or playing Lotto.

Look for them in songs and chants. Highlight them and pause expectantly to get the AAC learner to say them.

Send them home to families so they can see what your focus is and extend the learning.

Share them with other professionals on the team. The power behind a core vocabulary approach is that these words are as appropriate in speech as they are in PT, reading group, music therapy, or community-based instruction.

Don't leave the paraprofessionals out of the mix. If we nurture those relationships and build their skills over time, they can be our biggest allies. When you consider how much time they spend with our AAC friends, it's clear that they have the potential for enormous impact.

Give a set to the learner, too. Don't we all do best when we know what is expected of us?

Use the core words in writing. Jot some notes to the AAC learner once in awhile. As he/she reads the note, ask him/her to stop when they see a core word and say it out loud. Or, have them listen to you read it and they can stop you when they hear a core word. Then use the AAC system to say the core word aloud.

Keep track of how often you hear the core words, and make your score sheet visible to everyone on a bulletin board or clip board. A little competition could spice things up for some AAC learners.
Wishing all of you a good Year of Core Vocabulary. 
::::::::::::::::::::::::::::::::::::::::::::::::::::::::::::::::::::::::::::::::::::::::::::::::::::
P.S. If you do adapt these or make teaching materials, we'd love it if you would drop us a line.
Filed under: PrAACtical Thinking
Tagged With: core vocabulary, Year of Core Words

This post was written by Carole Zangari