PrAACtical Suggestions: Writing Goals for People Learning AAC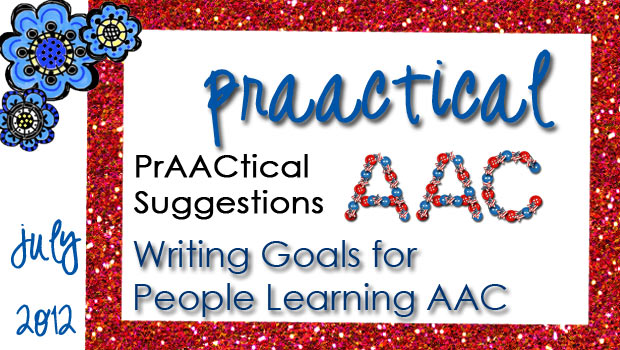 This post was inspired by a budding young professional who loves AAC and is DETERMINED to provide best practice services for the young students she serves. (See?? This is why we love being clinical educators!) We were chatting about a youngster on her caseload who uses an eyegaze SGD and is making some good progress with the technical aspects of it. Our conversation turned to goal setting.
–
First, a word about how to talk about AAC in the goals and objectives. For people who use SGDs, there are pros and cons to naming the actual device in the goal. Some SLPs favor that, while others prefer a more flexible approach and describe the device features. More about that another time. A more general concern about writing AAC goals is the tendency to focus more on operating equipment than on becoming an effective communicator. Clearly, we advocate the latter: AAC as a means to an end. A focus on language and communication means that we have to consider all of the various ways that the person communicates.
If you've been following this blog, you already, know how we feel about multimodal communication. But how do we do that in the context of setting goals? One option that we like a lot is to specify the components of the AAC system before listing the goals. Here's an example:
–
"Joni's AAC system includes: word approximations (more, bubbles, open, hi, bye, no, me), arm up for yes, shared classroom communication devices, eye gaze board, PODD book, iPad with ___ apps for communication, and XYZ communication device."
–
Once we've specified the components of the AAC system, we can either refer to the whole thing ("her AAC system) or individual components in each goal. As in:
–
"Using her AAC system, Joni will invite a peer to play at least twice/day."
"Joni will use her AAC system to answer at least 3 comprehension questions in Guided Reading Block."
"When a new person enters the area, Joni will independently greet him/her."
OR
"When using her PODD book, Joni will indicate when the desired message is not available ("I have something to say but it isn't in here") at least once/day."
"During Daily Review, Joni will retell the Story of the Week using her iPad or XYZ communication device."
"To clarify communication breakdowns, Joni will respon to yes/no questions, with her natural speech for 'no' and arm up for 'yes.'
–
We find that this approach keeps us focused on the end rather than the means and reminds us all of the varied ways in which our learner communicates.
–
Once we've specified the components of the AAC system, we are free to think about the kinds of things that will take us further down the road toward communicative competence. We don't always write goals in each of those areas (linguistic, social, strategic, and operational), but considering them in a systematic way helps us ensure that we don't miss anything. In this post, we'll list some examples in each category. They are in no particular order of importance and don't reflect developmental considerations. They're just a few examples of goals that we've used with our students to spark some thinking and discussion. We've tried to include a variety for learners at different levels of communicative ability.
–
Linguistic Competence
1. Student will use his/her core word communication board to express sentences of at least 3 words to participate in classroom activities.
2. Using his/her SGD or iPad, student will use modifiers and prepositions in spontaneous speaking situations.
3. Given a field of at least 5 options, student will use his AAC system to choose the preferred over the non-preferred at least twice per activity.
4. When faced with a potentially frustrating situation, the student will use AAC strategies to request appropriate supports (e.g., break, assistance).
–
Social Competence
1. Student will use her AAC system to ask partner-focused questions (e.g., What do you think? How about you? What's new?) to one adult and one peer.
2. Student will use his AAC system to invite a peer to play.
3. Given her AAC system, student will interact with a peer and take 3-4 conversational turns that relate to the topic at hand.
4. Student will use his AAC system to greet peers when they enter/leave at least 10 times/day.
–
Strategic Competence
1. When communicating with unfamiliar partners, the student will use his communication wallet or SGD, rather than signing, to express thoughts and needs.
2. When faced with a communication breakdown, student will navigate to the Communication Fixers screen and use an appropriate prestored message to repair the miscommunication.
3. Student will use a single message device to ask partners to wait while a full message is constructed.
4. Student will set the topic prior to shifting to a new subject of conversation.
–
Operational Competence
1. Student will adjust the volume to accommodate the noise level of the environment.
2. Given a dynamic screen AAC device or app, the student will navigate from the core language screen to at least 4 other screens.
3. Student will type 3 letters, check prediction window, and select the desired word or continue typing.
–
To reiterate, though we'd love to have the time to construct a comprehensive goal bank, these are just examples. We'd love to hear what kinds of goals are used in your practice setting.
—
Filed under: PrAACtical Thinking
Tagged With: AAC system, communicative competence, goals, intervention, language, linguistic competence, objectives, operational competence, social skills, strategic competence

This post was written by Carole Zangari