Make It PrAACtical: DIY Adapted Toys
Have you looked at the retail prices for switch-adapted toys lately? And have you noticed that the selection is fairly limited?
Just in time for the holiday season, we're pleased to introduce our youngest guest author to date, Michael Dicpinigaitis, who is stopping by to help us figure out a more affordable alternative. Michael used his interest in technology to learn how to adapt toys and create switches with the help of a 3-D printer. Learn about his organization, Jericho Adapts Toys, and peruse the resources he shares. If you're a do-it-yourselfer or know someone who is, this post is for you.
Kudos to the entire team at Jericho Adapts Toys: Michael Dicpinigaitis, Eric Li, Jai Joshi, Corinne Dicpinigaitis, and Sohil Dharia.
Enjoy!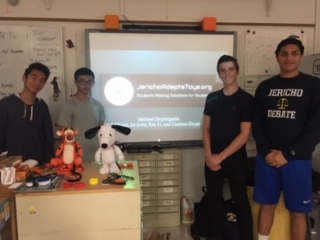 :::::::::::::::::::::::::::::::::::::::::::::::::::::::::::::::::::::::::::::::::::::::::::::::
JerichoAdaptsToys.org was a vision that became a reality. The vision was to provide children with significant motor impairments the ability to independently play, have control of their environment, and learn important skills that would be building blocks for higher-level learning.
My name is Michael Dicpinigaitis. I am a high school student at Jericho High School in Long Island, NY. I was inspired to start this organization by a video of a child playing with an electronic toy by pressing a switch by his head. I was intrigued to learn more about this and discovered that commercially available switch adapted toys are prohibitively expensive. As I continued to search, I learned that I could learn to adapt toys myself. I contacted self-contained schools in my area to see if they had a need and learned that many schools did not have any switch adapted toys or only very few due to the high cost. The few toys they did have became boring for the children very quickly. I decided I could help these schools by adapting toys myself and creating a free lending library so that the schools could borrow my creations and have a new assortment of exciting toys for their students each month. That's how JerichoAdaptsToys.org was born.
The planning phase was the most challenging. I recruited students to help me and together, we created a website, purchased materials required to adapt and gently used toys, watched tutorial after tutorial, and began adapting toys. I contacted administrators of schools and met with those administrators to pitch my vision. To my delight, schools were excited to work with us and couldn't wait to get started. A month later, we had over 50 toys adapted, 4 schools to work with, and we acquired a 3D printer so that we could add 3D printed assistive technology solutions including our switches to our lending library. Each month that passed resulted in more connections, more adapted toys, more 3D printed solutions, and more children who benefited from our program. Currently, we have over 100 adapted toys, we work with 8 schools and programs, and have expanded beyond our local region of Long Island to NYC. Also, I am starting a program in conjunction with my high school engineering program, teaching others how to adapt and inspiring fellow high school students to use their technological skills to make a difference and help others.
JerichoAdaptsToys.org has been such a success not only because it has significantly expanded in such a short time but also because of the deep appreciation we receive from the schools we are affiliated with. We realize that such a program is so desperately needed by schools not only in our community but in every community. This need has inspired me to inspire others to start similar lending programs in their communities. I began sharing my initiative via a Podcast interview and coverage in local papers. More recently I presented on my initiative at several national assistive technology conferences such as the AT Maker Fair in Pittsburg PA, and the AT Summit in West Windsor, NJ. In January, I am scheduled to present a poster at ATIA, the largest national conference for professionals on assistive technology solutions in the country.
JerichoAdaptsToys.org not so long ago was a vision but with hard work and determination, I have learned that I can achieve anything I put my mind to. I have also learned that there is nothing as satisfying as making a real difference in someone's life. This has driven me to move forward with my initiative and continue to create and provide for those that need it most. I know that JerichoAdaptsToys.org is only the beginning of the changes I will make for others, not only during my time at college but beyond in whatever direction my future career takes me.
Additionally, these are some helpful links that I used throughout my journey that I believe can be helpful to others in the process. (Prices are in US dollars.)
Filed under: Featured Posts, PrAACtical Thinking
Tagged With: adapted toys, DIY, play

This post was written by Carole Zangari