How I Do It-Strengthening our Remote AAC Sessions
As online instruction and therapy continue to be an important service delivery option, practitioners are growing their skills and expanding their toolboxes. Today, we welcome back PrAACtical AAC contributor Sarah Gregory with more tips and suggestions for how to make these virtual sessions more engaging and productive. Sarah is an AAC SLP and AT Specialist in Ithaca NY where she supports students in public school settings. In this post, she shares tips, videos, and activity downloads for AAC telepractice.
::::::::::::::::::::::::::::::::::::::::::::::::::::::::::::::::::::::::::::::::::::::::::::::::::::::::::::::::::::::::::::::::::::::::::::::
A new and uncertain school year has arrived and many of us will be continuing with some form of remote AAC support. In my last blog post (click here), I shared tips for getting started with AAC teletherapy and now we will look at structuring virtual sessions, creating and using digital materials, and providing Aided Language Input. And although I am sharing many digital activities and tricks, the most important thing is maintaining engagement and having fun with your student/client no matter what that looks like.
Structuring a session: Organization is a key to teletherapy success. I create a Google Slide deck for each of my students and use that to plan for my sessions. I insert hyperlinks to websites/digital activities or add a picture of a book/toy that I plan to use. Once I start my teletherapy session I use the slide preview as a choice board and ask my student what they want to do first. I also use it as a visual schedule to structure the session.
Creating Materials: 
Google Slides is a free tool that can but used to create

interactive activities

using Lesson Pix or a Google image search.
I love finding creative ways to use free digital resources, for example structuring a

YouTube video

in Google Slides to pause for Aided Language Input.
Jamboard

is a free interactive whiteboard that can be used to create activities or to support AAC modeling.
Here are some examples of my

digital activities

that you can download for free and edit to meet your student/client needs.
Modeling/Aided Language Input:
This has been a real curveball in navigating teletherapy. We know the importance of

providing Aided Language Input on a student's AAC system

, but it can be overwhelming to share too many windows on a computer screen. I typically start my sessions by

mirroring an iPad

and providing AIL, then I switch to an engaging digital activity with static display AAC. This combined with parent/caregiver coaching allows the present communication partner to pick up the AIL on their end while I am sharing an activity. 

Here are some tips for

integrating AAC icons

and modeling into digital activities.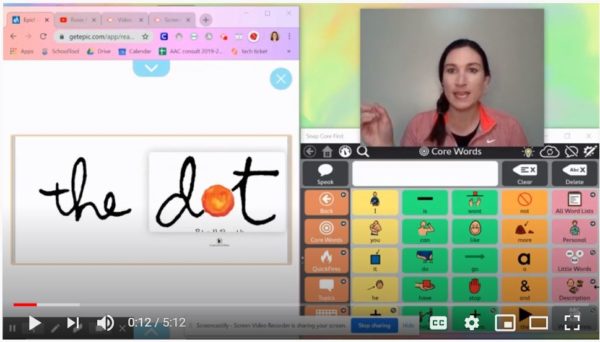 When I want to share both an activity and simultaneous ALI, I do this as a

pre-recorded

or asynchronous video. The end of this YouTube video also has some tips for making AAC modeling on a mirrored iPad more salient.
My final tip is when you start to lose engagement with an AAC learner

do less

. I often close out my digital activities and work on engaging with something in their physical space, rather than the computer screen.
::::::::::::::::::::::::::::::::::::::::::::::::::::::::::::::::::::::::::::::::::::::::::::::::::::::::::::::::::::::::::::::::::::::::::::::
You can learn more from Sarah here.
About the Author: Sarah Gregory, M.S. CCC-SLP is a Speech-Language Pathologist and Assistive Technology consultant in the Ithaca City School District in Upstate New York. She specializes in Augmentative and Alternative Communication in a public school setting with a focus on inclusion. Sarah has presented on these topics at national and statewide conferences. She shares tech tips for AAC and teletherapy on YouTube and Instagram @SarahGregorySLP.
Filed under: Featured Posts, PrAACtical Thinking
Tagged With: downloads, telepractice, videos

This post was written by Carole Zangari