Core Samples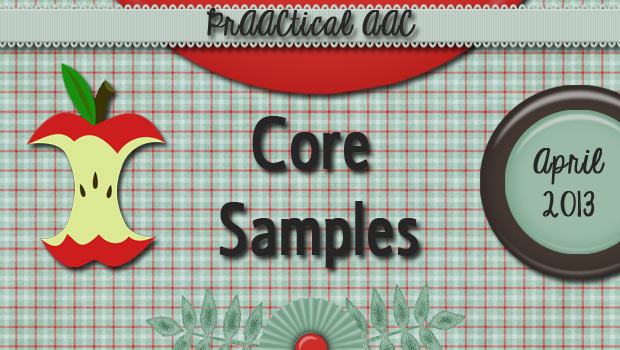 Whether we're working on a project, cooking with new ingredients, or doing something crafty, one of the things we find most helpful is examples. Seeing how other people have approached a situation can be informative and inspiring. Making communication displays for people who use AAC is no different. Most of us appreciate the opportunity to see what our colleagues have done.
We provided a number of examples of communication boards and books that are rich in core language in some of our earlier posts. Here are some of them, just in case you missed those posts.
Some of you also asked us for our own boards to show how we arranged the 12, 24, and 36 core words we chose to use as examples in our April strategy posts. These sample boards are in PDF format.
These boards were made with EnableMart SymPrint from Claro Software. Do you have favorite core word displays? We'd love to hear about them.
Filed under: PrAACtical Thinking
Tagged With: communication boards, core vocabulary, examples, free download, resources

This post was written by Carole Zangari