AAC at the Table: 5 Tips for Building Social Communication at Mealtimes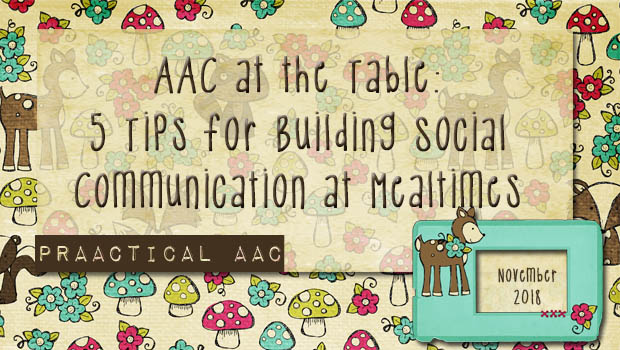 Think back on some of the meals that you've shared with others recently. What did people talk about? In most cases, there's a lot more that 'Pass the peas,' 'What's for dessert?', and 'Can I go now?' Mealtimes are social experiences in many cultures and it can take some work to ensure that our AAC learners can take part. Here are some ideas for supporting the development of social communication during shared meals.
Build a routine that includes social communication: AAC learning takes time and lots of prAACtice. We can support the march to AAC proficiency by incorporating specific kinds of social exchanges into our mealtimes so that AAC learners know what the expect and have practice opportunities for this skill set at mealtime.

Some examples: Sharing Time (i.e.., everyone shares something that happened to them that was funny/interesting/memorable), Question of the Day (e.g., "What's your favorite __?" "Where's the best place to go for ___?"), Finish the sentence (e.g., "I'm thankful for ___"; "If I were a food, I'd be a __")

Check out more ideas for building a mealtime routine here.

Consider using pre-stored messages for some things: While they have significant limitations and should not be over-utilized, pre-stored messages can play a valuable role in building social communication because they are relatively quick and easy to deliver.

Some examples: Saying a blessing or prayer, expressing thanks and appreciation, asking a partner-focused question (e.g., "How was your day?"), giving a compliment (e.g., "This is really good." "You look nice today.")

Set an example: Model your own social communication (using AAC, of course). Take the opportunity to use aided language input to ask and answer questions, share information, give compliments, and encourage others.
Be playful: Make up simple games that foster communication outside of wants and needs.

Some examples: I Spy with My Little Eye, 2 Things I Like About __, 2 Sillies and a Serious (a play on 2 Truths & a Lie)

Get ideas for using jokes and riddles here.

Narrate the experiences of yourself and others: Using the AAC system to put words to what others are experiencing is a great way to take advantage of incidental learning.

Some examples: "First, I'm going to cut this a little smaller. Then, I can eat it." "Jonah must be hungry. He's eating every bite!" "Mommy looks distracted. She keeps checking her phone." "Evan, you look bored. I bet you've heard me tell that story before."

Learn more about using descriptive talking and other indirect strategies here.
Do you have tips for going beyond requesting to support social communication at mealtime? We'd love to hear them.
Filed under: Featured Posts, PrAACtical Thinking
Tagged With: implementation ideas, mealtime, social interaction

This post was written by Carole Zangari