When Disaster Strikes: USSAAC's Response to Families with AAC Needs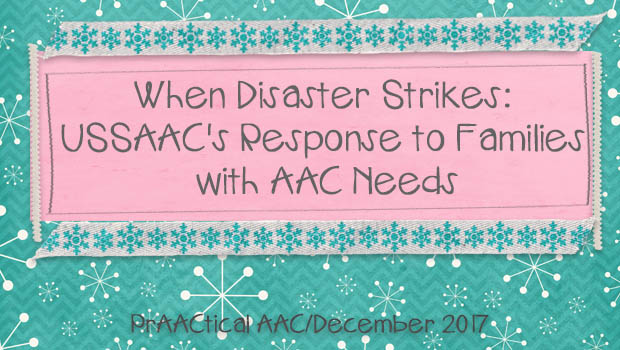 I'm honored to have AAC pioneer Dr. Sarah Blackstone join us today for a guest post that highlights the work that is being done by the US
chapter of the International AAC Society (ISAAC). The US chapter, known as USSAAC, has a long-standing commitment to supporting the AAC community in times of national disaster. Dr. Blackstone is both a past president of ISAAC and a founding member of USSAAC. She has authored many AAC-related texts and articles and is a partner emerita of the Rehabilitation Engineering Research Center on Communication Enhancement. She has served the AAC community with distinction, having been granted honors and awards by ASHA, ISAAC, USSAAC, and other organizations. Dr. Blackstone previously practiced at Johns Hopkins Medical Center in Baltimore, and in a private practice that serving children with AAC needs.
Currently, Dr. Blackstone is on USSAAC's Board of Directors. She and Harvey Pressman co-chair USSAAC's AAC Disaster Relief Committee. The committee includes USSAAC members from Texas (Liz Begley, Miriam Boesch, Amber Thiessen); Florida (Carole Zangari); Puerto Rico (Mara Hernandez; California (Wendy Quach, Sarah and Harvey) and Pennsylvania (Amy Goldman). The committee works with families impacted by disasters in the United States and its territories. We are working with families to support individuals who have lost an AAC device, communication materials, equipment in one of the major national disasters.
USSAAC's efforts in supporting AAC users affected by disaster dates back to Hurricane Katrina in 2005. At that time, USSAAC worked to replace devices and materials that were damaged or lost in the storm/flooding, and rebuild capacity through a major AAC conference. In this post, Dr. Blackstone discusses the way that USSAAC is supporting people with AAC needs who were impacted by Hurricane Harvey. Since that time, there have been two additional major hurricanes and two major wildfire events. USSAAC is currently fundraising in order to be able to continue this work and help AAC families in the US, Puerto Rico, and the US Virgin Islands overcome the impact of disaster. Please consider making a donation (click here to donate or learn more). A small, end-of-year donation will help them meet challenge grants and expand the work they are doing to rebuild local capacity for AAC services.
USSAAC'S RESPONSE TO FAMILIES IMPACTED BY DISASTERS
USSAAC is partnering with the Red Cross, Easter Seals, the Autism Society, Family2Family, the PASSItOn Center, California Disaster
Coalition and FEMA, using the Recovers.org portal to support people with complex communication needs. We are indebted to the many individuals and companies who have donated money, as well as in-kind contributions. The committee wants everyone to know. WE ARE IN THIS FOR THE LONG HAUL. Recovery takes much longer than you might think.
As Hurricane Harvey raced up Texas's Gulf Coast and then poured 40 inches of rain on the area, it caused significant flooding and ravaged many lives in its wake. Elena Travassos, her husband, two children, ages 12 and 10, and young infant fled from their home in Katy, Texas. On October 2, 2017, Elena entered a "request" for help on USSAAC's Harvey AAC Recovers website. It said:
"2 iPads for communication, for my 2 children with severe autism"
The USSAAC AAC Disaster Relief Committee responded. We learned that Elena homeschools her children, Alissa (age 12) and Andrey (age 10), who have autism with limited speech. They were using iPad minis with Proloquo2Go and the Ava Talker apps and lost their devices as a result of the aftermath of the hurricane. When I spoke to Elena I learned she had prepared…she had backed up their devices to the Cloud. [YOU CAN'T PREDICT BUT YOU CAN PREPARE]. So, even though her children's devices were lost, their vocabulary and set-up were available.
Elena also pointed us toward Fritzi, a speech-language pathologist, who had worked with both children for years and wrote a letter of support. Working together, on October 15 we prepared and submitted a request to the Red Cross to replace both iPad minis. The request was approved within days and two iPad minis were shipped directly to Elena at their temporary 'home' in a hotel in Dallas. Liz Begley, an SLP and AAC Disaster Relief committee member from College Station in Texas, made sure each child got an appropriate OtterBox case with their favorite football team logos (the Dallas Cowboys and UT Longhorns).
It has now been 3 months since the family was evacuated, and they are all hoping to be back home by Christmas.  Now that they have their iPads and communication apps, the children are again able to chat about the things they like to do.
As Elena said, "Alissa loves baking and we did make a pumpkin pie last night because she really wanted it and has many allergies so we cannot  buy pre-made food items." She also noted that Andrey LOVES car rides. "When Daddy got here this weekend, he wanted to ride in the car with him a lot."
Elena and her family have remained resilient and positive throughout this long ordeal. When the Internet in the hotel was too slow to download the children's communication app, she just headed to the nearest Starbucks to get the job done!
The many families USSAAC is helping to recover from recent disasters are getting a free membership in USSAAC for 2018, so our growing community can continue to support them. Elena said in a recent email, "We are very excited about becoming a part of USSAAC and, again, thank you so much for all of your help."
USSAAC is committed to long-term support of those areas affected by major disasters in the US, Puerto Rico, and the US Virgin Islands. The majority of requests for AAC support come in weeks or months after the acute phase of the disaster, meaning that the recovery for those affected by this year's hurricanes and wildfires will pick up speed in the new year. Please consider a small, end-of-year donation so that USSAAC can continue to support the AAC community whose lives have been devastated by these disasters.
Filed under: Featured Posts, PrAACtical Thinking
Tagged With: disaster, Emergency, USSAAC

This post was written by Carole Zangari