Teach Me Tuesday: CoughDrop
We're back with another post featuring learning resources about AAC apps, software, and SGDs. This week, we'll look at CoughDrop, an open source AAC program, and hear from a young clinician who uses it in her work. If you are new to CoughDrop, consider taking a little time to get to know it using the links below.
Ready to explore? Here are some resources to get you started.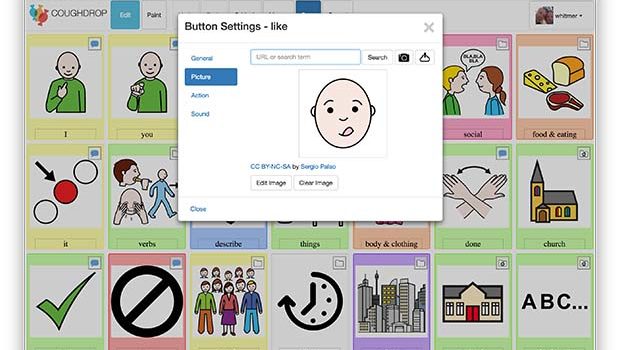 My Experience with CoughDrop by Samantha Cutler
Primarily, I'd like to issue a disclaimer that I am in no way affiliated with CoughDrop nor do I receive any financial gain from them. It is merely a program that I enjoy using and I wanted to share my experience with the AAC community.
In the chaos of an average day in the life of a speech-language pathologist, it is important to have access to a communication method that is efficient, comprehensive, and user-friendly. CoughDrop is the most intuitive and cost-effective AAC application that I have found. Their customer service is excellent and whenever I have had a question, my concerns have been immediately met with answers and solutions.
CoughDrop is straightforward and easy to use. If I need to quickly create a board, modify a button, or hide a button from view during a session, I can do so with a few touches. Parents of my clients have also found programming simpler as compared to other AAC devices and iPad applications. I think that is significant. It is so important for parents to be able to easily adjust their child's means of communication, as it not only increases carryover, but is also empowering.
I love the layout of the program. It is visually appealing and I can easily adjust the size, spacing, and color of the buttons (the "paint" feature is awesome). It's great that we have the ability to copy boards and I really enjoy the "button stash" feature. This enables me to essentially copy and paste, allowing me to construct different boards with buttons consistently in the same positions. Doing so improves my clients' abilities to create motor plans, which is always a plus. I can also copy boards to different user's accounts, saving me time, as I do not have to constantly recreate them. For example, I made a "core board" and have used it for several of my clients, copying the same board to each of their accounts and simply modifying and individualizing buttons as needed. CoughDrop also enables access to boards that other members have made public, allowing the community of users to share amongst each other.
Because CoughDrop is cloud-based and we have the ability to become supervisors for our clients, we can access our clients' boards remotely. So, if my client's device is broken or unavailable, I still have access to his or her communication system via my iPad during therapy. Though I primarily use CoughDrop on my iPad, clients can use their smartphones, tablets, or computers to access their communication boards. It's pretty great that I don't have to take home my client's device (and thus his or her voice) to modify boards. I can do so from my own personal computer or iPad at any time and it syncs to their account, allowing immediate and consistent access.
Another great aspect of CoughDrop is its affordability. They offer a free two-month trial and then it is priced per communicator. Therefore, the client can purchase a subscription or pay a flat rate (I believe it is $6/month for a subscription) and supervisors will have a free account. I like that they offer a subscription, as it is less of a financial commitment for parents and allows them to try it out. The free account for therapists is pretty wonderful too. Currently, I am a supervisor overseeing seven clients ranging from three to thirteen years of age with varied abilities and communication needs. All of my clients have improved in their communication skills since implementing CoughDrop.
CoughDrop was created by the father of a child with complex communication needs who realized the importance of an affordable, user-friendly AAC program. CoughDrop is just that. I feel that using the iPad for AAC is so practical and technologically relevant and I love discovering new apps. Therefore, I felt it was worthwhile to share my experience. I have truly enjoyed this program and look forward to continuing to facilitate communication with my clients through CoughDrop.
:::::::::::::::::::::::::::::::::::::::::::::::::::::
Samantha Cutler is a speech-language pathologist working with children with a variety of communication needs, many of whom use
augmentative and alternative communication.  She graduated from the University of Florida with a degree in Communication Sciences and Disorders and received her Master's degree in Speech-Language Pathology from Nova Southeastern University.  Samantha has worked as a teaching assistant at Baudhuin Preschool for children with autism spectrum disorder and as a social skills instructor at B.L.A.S.T. Educational Services. She is currently a speech-language pathologist at Pediatric Therapy Associates of South Florida.
Filed under: PrAACtical Thinking
Tagged With: AAC app, open source, Teach Me Tuesday

This post was written by Carole Zangari