PrAACtical Resources: AAC 101 Flipbook Handout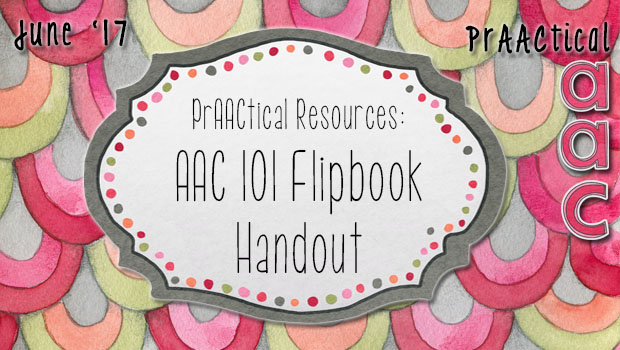 Looking for a quick, easy-to-read resource to supplement your AAC trainings with colleagues and families? In today's post we share a
flipbook-style handout that might come in handy. It covers basic tips under these headings:
AAC Near Me (See me, see my AAC)

Speak AAC (Aided language input)

Speaking Style (Descriptive talking)

Expectations (Setting the bar high)

Support (AAC facilitation strategies)

FAQs (Q & A about implementation)

Top 10 Tips
You can download the file here.
Edited: This was translated into Spanish as part of the Hablando PráctiCAAmente project, coordinated by Deanna Wagner. Dianna Angeles was the translator and Claudia Marimón assisted with the editing. You can access the Spanish edition here.
Enjoy!
Filed under: Featured Posts, PrAACtical Thinking
Tagged With: handout, inservice, resource, Training

This post was written by Carole Zangari