5 Ways to Use Rating Scales to Enhance Communication with AAC
In an earlier post, we lamented the under-utilization of a quick and effective strategy:
qualitative rating scales. You may not know them by that name, but we all know them. Also called Likert-type scales, we've seen these a multitude of times when we were asked to give an opinion. Strongly agree to Strongly Disagree. Excellent to Poor. Always to Never.
–
There are only a few guidelines to using these with AAC folks. One is to make sure to use appropriate visual supports.  Literate AAC users may be very comfortable with text-only options, but for other learners, we need to add images so it makes sense to them. Another suggestion is to stick with an odd number of options: 5 seems to be the norm in clinical practice, but you can certainly adjust to fit the learner's needs. For some, a 3-point scale would be best. Others may want more detail and use a 7-point scale. Finally, once you have the scale, create a short activity to teach the AAC learner how to use it. For example, you might have a stack of pictures of foods, some of which are wonderful and others which are awful. Going through those one-by-one and placing them on a scale (e.g., Love It/Okay/Hate It, Yummy/OK/Yucky, Great/Not Sure/Awful) give the learner a better understanding of what to do
.–
Here are some ideas for how to use rating scales in your AAC therapy.
1. Express opinions: We can create scales to help clients give an opinion.
Possible Anchor Points: Love it/Hate it, Wonderful/Terrible, Beautiful/Ugly, Cool/Geeky, Awesome/Boring
2. Choose topics to be included in their vocabulary: Involve the learner in selecting vocabulary for his/her device by presenting options and getting their input on content.
Possible Anchor Points: Essential/Not Essential, Keep it/Toss It, Absolutely/Never, Love It/Hate It, Perfect/Perfectly Awful
3. Choose wording for the messages: Once the learner has rated the content you suggested for vocabulary, you can use rating scales again to have them give input on the specific wording of the message. For example, a client who needs messages to be able to interrupt others might be given these options to rate using the scale you made for # 2: Excuse me; Pardon me; May I tell you something?; Need you for a second; I have something to tell you; Do you have a minute? etc.
4. Quick way of indicating pain: Pain scales are becoming more popular in hospitals, but they're also useful at home and in school. If you've ever had a migraine, you know how important it would be to differentiate that from a regular headache. Our AAC learners need these options, too.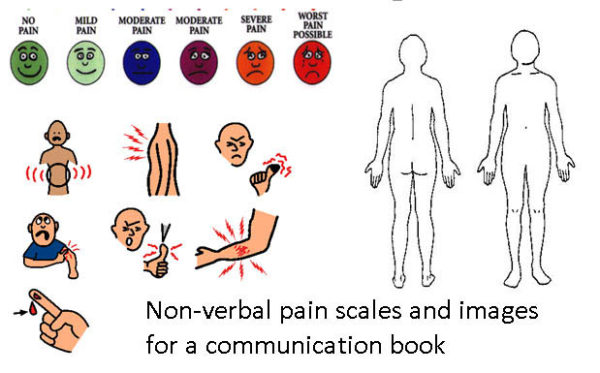 –
5. Inviting the opinion of others: Use rating scales to give the AAC learner a way to engage partners in dialogue. Some years ago, we had campers in our AAC & Literacy Camp do daily surveys on topics of interest and have people around the clinic rate things such as how well they liked a song, movie, or book. These scales can be used to invite people to rate things like current events, hobbies, foods, vacation spots, pets, outfits, places to eat, etc.
–
We'd love to hear more ideas of how you're using rating scales with people who are learning AAC.

––
Filed under: PrAACtical Thinking
Tagged With: implementation ideas, intervention, rating scale, visual supports

This post was written by Carole Zangari