133 Free & Lite Versions of AAC Apps + App Selection Resources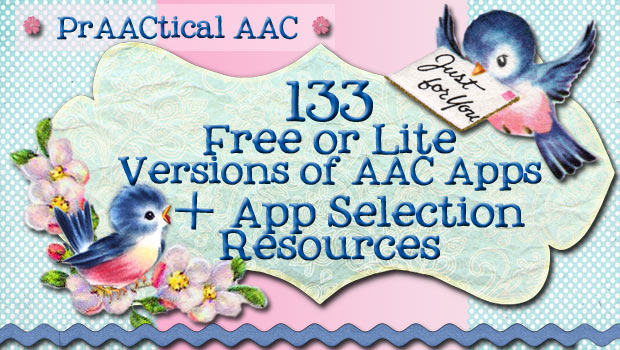 Here is our most recent update of free and lite versions of AAC apps for iOS and Android platform devices
+
a variety of resources related to AAC app selection.  We strongly continue to advocate for a systematic process for AAC app selection. We  recommend AAC app decision making in the context of a feature match process that gives appropriate attention to the full range of AAC options.
 Tools to Use In Making Decisions About AAC Apps
 Feature match form developed by Jessica Gosnell at Boston Children's Hospital
Feature match checklist created by Scott Marfilius and Kelly Fonner
Our supplemental rubric covering language and communication features,  RELAAACs
Places to Go to Find AAC Apps and Reviews
Training Material on AAC Apps, News, Suggestions, etc.
 The App Academy's site for app training videos
Our PrAACtical AAC Scoop.It collection and Pinterest boards
Our post on 5 Things to Do Before you Choose an AAC App
 Because this list sometimes gets circulated without the context in which it was originally developed, we decided to include some excerpts from our original post in early 2012.
"Graduate student SLPs are a fairly diverse group, but one thing that is common to almost all of them is that they are on a very limited budget. Although many of the AAC apps are reasonably priced, even that can be a lot for a struggling student. We wanted to put together a list of the free or lite versions of AAC apps for them to explore on their own iDevices.
First, a few caveats:
Selection of AAC tools is always made after a thorough assessment. This is as true for apps as it is for speech generating devices (SGDs).
 This list isn't intended in any way to endorse these apps or suggest that the free/lite version is sufficient. Hopefully, it will give future professionals a taste of what these  apps can do and allow them to begin to think about how to make decisions about this in the context of a feature match assessment. Review sites like the one at Spectronicsand OCALI can be very useful when you are trying to see some of the features that apps contain.
This list isn't comprehensive. If you have links to other AAC apps that are free or have lite versions, please send them along and we will update our list.
Students, remember what we've taught you about AAC. This doesn't supersede what you've learned about AAC and language assessment, symbol selection, multimodal communication, etc."
Learning to communicate with an AAC app requires AAC teaching strategies such as aided language input (ALI), language facilitation strategies, communication opportunities, & meaningful language experiences.
And now, on with the show…
iOS Device Free or Lite AAC Apps
Able AAC Free (NEW)
Aeir Talk (New)
Assistive TTS (Not in US Store)
Augie Free (Free version not currently available in US)
Comunicador Personal Adaptable(Spanish)
Communications (NEW)
C.P.A.  (in 18 languages, NEW)
ER Translate (NEW)
Flashables  (NEW)
FreeSpeech
iSpeech Text to Speech (NEW)
Neo Julie (also Kate and Paul)
NikiTalk(NEW)
Nonverbal Communication for Autism-NOCOA (Japanese)
Simple AAC (Free 7 day trial)
Small Talk Aphasia (Male & Female)
Smart_AAC (Free 7day trial; NEW)
Speak for Yourself LAT Kids   (not available in US store)
Spubble Lite (not available in US store)
Symbly Go (Free 30 day trial, then monthly subscription, NEW)
Talk to Me 100 (free version has 9 locations)
Talking Tiles (Free 15 day trial & then monthly fee, NEW)
TransEZ (NEW)
Free or Lite AAC Apps for Android Devices
AAC Speech Communicator (French, English)
AAC Yes/No (Male & Female versions; NEW)
Ablah Demo (NEW)
Alexicomm for Android (30+ free pages)
FalaFacil – DiegoDiz (Portuguese)
HablaFacil – DiegoDice (Spanish)
Help Talk (NEW)
Ivona (NEW)
MiaOvoce (NEW)
Pics Pecs Austism (NEW)
PictoDroid Lite (Spanish, English)
Smart Howl Demo (NEW)
Speak For Yourself (NEW)
Symbol Path (NEW)
Talk 2 All (for phone communication)
Visual Cues AAC (NEW)
Vocal SlidesVox4All Free (NEW)
Filed under: PrAACtical Thinking
Tagged With: AAC Apps. AAC teaching strategies

This post was written by Robin Parker